Effective: April 29, 2018
THESE TERMS AND CONDITIONS GOVERN YOUR USE OF andreaflorescu.com, WHICH IS PROVIDED BY AndreaFlorescu.com. BY ACCESSING andreaflorescu.com, YOU AGREE TO THESE TERMS AND CONDITIONS, WITHOUT MODIFICATION, AND ACKNOWLEDGE READING THEM. THESE TERMS AND CONDITIONS ARE SUBJECT TO CHANGE BY AndreaFlorescu.com AT ANY TIME IN ITS DISCRETION. YOUR USE OF andreaflorescu.com AFTER SUCH CHANGES ARE IMPLEMENTED CONSTITUTES YOUR ACKNOWLEDGMENT AND ACCEPTANCE OF THE CHANGES. PLEASE CONSULT THESE TERMS AND CONDITIONS PRIOR TO EVERY USE FOR ANY CHANGES. IF YOU DISAGREE WITH ANY OF THESE TERMS OR CONDITIONS, PLEASE DISCONTINUE USE OF andreaflorescu.com.
Overview
The terms "we", "us", and "our" refers to AndreaFlorescu.com. The term the "Site" refers to andreaflorescu.com. The term "user," "you" and "your" refers to site visitors, customers and any other users of the site. The term the "Service" refers to the services and/or products provided by AndreaFlorescu.com via andreaflorescu.com. The term the "Content" refers to information provided on the Site in any form, including graphics, artwork, photos, videos, audios, text, code, software or other material. The term "Submissions" refers to any graphics, artwork, photos, videos, audios, text, code, software or other material provided by you to AndreaFlorescu.com via our Site, Service, or company email or regular mail.
Other Documents Included In These Terms And Conditions By Reference
Our website's Privacy Policy is part of, and subject to, these Terms and Conditions of Use. You may view our Privacy Policy elsewhere on our website. To the extent there is a conflict, the terms of the Privacy Policy shall govern. Any other policies, notices, or other legal/administrative pages contained in our website are also necessarily incorporated into these Terms and Conditions of Use by reference.
Use of the Site and Service
TO ACCESS OR USE THE SITE, YOU MUST BE 18 YEARS OR OLDER AND HAVE THE NECESSARY POWER AND AUTHORITY TO ENTER INTO THESE TERMS AND CONDITIONS. CHILDREN UNDER THE AGE OF 18 ARE PROHIBITED FROM USING THIS SITE.
Content provided on the Site and in or related to the Service is subject to change. AndreaFlorescu.com makes no representation or warranty that the Content, regardless of its source, is accurate, complete, reliable, current or error-free. AndreaFlorescu.com disclaims all liability for any inaccuracy, unreliability, error or lack of timeliness or completeness in the Content.
Content on this Site may be provided in written, video and/or audio format and is provided for the user's convenience for informational, educational and entertainment purposes only. Content on this Site is not intended to provide specific financial, tax, legal, physical or mental health or any other professional advice whatsoever to you, or any other individual or company, and should not be relied upon as such.
Site Licensee Status
You understand and agree that your use of the Site is limited and non-exclusive as an individual nontransferable revocable licensee. AndreaFlorescu.com may, within our sole discretion, terminate your license to use the Site, and access to the Site, for any reason or no reason whatsoever, and without giving you notice.
Account Creation
In order to use the Service, you may be required to provide information about yourself including your name, email address, username and password and other personal information. You agree that any registration information you give to AndreaFlorescu.com will always be current, correct and complete. You must not impersonate someone else or provide account information or an email address other than your own. Your account must not be used for any illegal or unauthorized purpose. You must not, in the use of the Service, violate any laws in your jurisdiction.
Restrictions On Use
You may use the Site and Service for lawful purposes only. You agree to use the Site and to purchase Service through the Site for legitimate purposes expressly permitted by this Site. You agree to be financially responsible for all purchases made by you or someone acting on your behalf through the Site. You may not use this site for any other purpose, including any commercial purpose, without AndreaFlorescu.com's express prior written consent. You shall not post or transmit through the Site any material which violates or infringes the rights of others, or which is threatening, abusive, defamatory, libelous, invasive of privacy or publicity rights, vulgar, obscene, profane or otherwise objectionable, contains injurious formulas, recipes, or instructions, or which encourages conduct that would constitute a criminal offense, give rise to civil liability or otherwise violate any law.
Refusal of Service
The Service is offered subject to our acceptance of your order or request for Service. We reserve the right to refuse service to any order, person or entity, without any obligation to explain our reason for doing so. An order is not deemed accepted by us until payment has been processed. We may at any time change or discontinue any aspect or feature of the Site or Service, subject to us fulfilling our previous responsibilities to you based on acceptance of your payment. If we choose to refuse your order after payment has been processed, we will refund your money.
Order Confirmation
We will email you to confirm the placement of your order and with details concerning product delivery. In the event that there is an error in this email confirmation, it is your responsibility to inform us as soon as possible so that we may correct the error.
30-Day "Action Takers Only" Refund / Exchange Policy
Our goal is for you to be completely satisfied with your purchase of any of our training courses. We also want you to give it your best effort to practice the strategies you learn in the course.
In short, THERE ARE NO REFUNDS.
However, with every purchase, we offer a 30-day "Action Takers Only" refund/exchange period for purchases based on 1 of the 2 options listed below.
Option #1 – Full Refund That Meets The "Action Takers Only" Conditions
In order to qualify for a refund you must submit proof that you actually did the work laid out in the course and that it did not work for you. This includes actually putting forth a concerted effort to go through the entire course and apply the information you learn. If you can't prove this then there is NO REFUND that will be granted.
Please note: If you selected a payment option we are not able to stop any future payments without a refund request that meets the conditions at our support desk at support@andreaflorescuu.com.
If you decide that your purchase was not the right decision, submit your request within 30 days of your purchase by 11:59 PM EST. You must also include any relevant proof that you took action on the information in the course (ie. screenshots, content, or other relevant information) with your request for a refund. If your request for a refund does not include proof that you actually took action on the material by the 30th day, you will NOT be granted a refund.
Please note: If you opted for a payment plan and you do not request a refund within 30 days along with the required coursework at the time of your refund request, you are required by law to complete the remaining payments of your payment plan.
Option #2 – Exchange For Another Product(s) of Equal or Lesser Value
We have many other training products all designed to help you build your business online. With this option, you can exchange the amount of your initial purchase with any products of equal of lesser value listed on this page https://andreaflorescu.com/products.
You can also choose any combination of products at the current price that equals the sales price of the original product. This also must happen within 30 days of the original purchase date.
We will NOT provide refunds or exchanges more than 30 days following the date of purchase and we will only exchange it one time. After that all exchanges are final.
After day 30, all payments are non-refundable and non-transferable. You are responsible for full payment of the fees for the program regardless if you complete the program.
All refunds are discretionary as determined by AndreaFlorescu.com. To further clarify, we will not provide refunds after the 30th day from your date of purchase and all payments must be made on a timely basis.
All of the terms and conditions stated in this refund policy also apply to any upsells during the initial checkout process of the product you purchased.
Refund Policy For LIVE Workshops, Courses and Challenges
From time to time we will do LIVE training workshops, courses and challenges. These are LIVE and are almost always offered at a discount compared to what we normally charge for the recordings.
Because these courses are considered special and are completed over a number of weeks, you agree that there will be NO REFUNDS after the beginning of the first session.
If you want a refund YOU MUST request a refund before the first session of the live course. This is the only exception where we will offer you your money back. NO EXCEPTIONS.
Refund Policy For One on One Coaching and Consultation
Any refund requests for personal one on one coaching or consulting must be requested before the first coaching session begins. Any refund request requested after the first coaching session will be denied.
Refund Policy For Any of AndreaFlorescu.com Monthly Memberships
All refund requests must be made within the initial 14 day trial period. All refund requests made during the 14 day trial period will be refunded. Once the initial full month payment is made, there are no refunds for that payment. You can cancel all future billing from the day your request is made moving forward. Access to content inside the membership site is only accessible with an active AndreaFlorescu.com membership.
IMPORTANT NOTICE
If you are not clear on our refund policy or you do not agree to this refund policy you should NOT PURCHASE any of our products, memberships or coaching services prior to getting clarification.
Your purchase of  AndreaFlorescu.com's training products and services indicates that you agree with this refund policy in full.
Every one of our order forms is accompanied by a checkbox with a link to this page that indicates you comply with these terms as shown in the image below.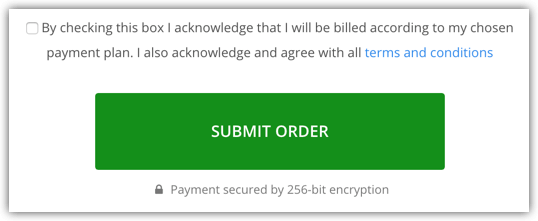 Our refund policy is also clear on every sales page for any of our products.
This refund policy applies to all websites owned and operated by  AndreaFlorescu.com. 
If you have any questions or need further clarification on these terms, please let us know by contacting our support team directly. The support desk can be reached at support@andreaflorescu.com.
Product Description
We endeavor to describe and display the Site and Service as accurately as possible. While we try to be as clear as possible in explaining the Service, we do not guarantee that the Site is entirely accurate, current, or error-free. From time to time we may correct errors in pricing and descriptions. We reserve the right to refuse or cancel any order with an incorrect price listing.
Third Party Resources
The Site and the Service may contain links to third party websites and resources. These links are provided for your convenience. You acknowledge and agree that we are not responsible or liable for the availability, accuracy, content or policies of third-party websites or resources. Unless otherwise indicated by us, links to such websites or resources do not imply any endorsement by or affiliation with AndreaFlorescu.com. You acknowledge sole responsibility for and assume all risk arising from your use of any such websites or resources.
Links to external websites may expire over time, a situation which we do not control. We do review our Site periodically for broken and out-of-date links, and we have the right to alter, remove or post links at any time. If you would like to report problems with links on our Site, please send an email to support@andreaflorescu.com.
Material You Submit to the Site
AndreaFlorescu.com prohibits the uploading, posting or otherwise making available on the Site any artwork, photos, videos, audios, text or other submission of material (collectively "Submissions") protected by copyright, trademark or other proprietary right without the express written permission of the owner of the copyright, trademark or other proprietary right. The burden of determining that any Submissions are not so protected rests entirely with you. You shall be liable for any damage resulting from any infringement of copyrights, trademarks, or other proprietary rights, or any other harm resulting from such a Submission. You represent or warrant that you have the authority to use and distribute all Submissions submitted by you to the Site, as well as any Submissions sent via email to our email address or via mail to our mailing address, and that the use or display of the Submissions will not violate any laws, rules, regulations or rights of third parties.
Intellectual Property Rights to Your Submissions
We claim no intellectual property rights over your Submissions to AndreaFlorescu.com. You retain copyright and any other rights you may rightfully hold in any Submissions which you submit through the Site or Service or via company email or postal mail. Submissions to AndreaFlorescu.com remain yours to the extent that you have any legal claims therein. You agree to hold AndreaFlorescu.com  harmless from and against all claims, liabilities and expenses arising out of any potential or actual copyright or trademark misappropriation or infringement claimed against you. By posting Submissions on the Site or through the Service or submitting testimonials and other information to our email or postal address, you grant us a world wide, nonexclusive, royalty-free, perpetual, irrevocable license to use the Submissions for promotional, business development and marketing purposes.
Notice and Procedure for Making Claims of Copyright or Intellectual Property Infringement
AndreaFlorescu.com respects the intellectual property of others, and we expect our Site users to do the same. AndreaFlorescu.com may, in appropriate circumstances and at its discretion, refuse Service and/or Site access to users who may be intentional or repeat copyright infringers. If you believe that your intellectual property has been copied in a way that constitutes copyright infringement, or that your intellectual property rights have been otherwise violated, or if you are uncertain whether your material is protected by copyright laws, we suggest you contact an attorney knowledgeable in copyright law. United States copyright law provides that you will be liable for damages (including damages, costs and attorneys' fees) if you materially misrepresent that a website or web page is infringing your copyright.
If you do wish to file a notice of infringement related to our Site, please provide AndreaFlorescu.com the following information in a writing signed (either physically or digitally) by the owner of the copyright or other intellectual property interest or a person authorized to act on his or her behalf:
1. A detailed description of the copyrighted work or other intellectual property that you claim has been infringed, sufficient to identify the property;
2. A description of where the material that you claim is infringing is located on the Site, including the URL, the exact webpage, and a description of the specific material on the page which you claim is infringing on the copyright;
3. Your name, address, telephone number, and email address;
4. The following statement: "I swear, under penalty of perjury, that the information in the notification is accurate and that I am the copyright owner or am authorized to act on behalf of the owner of an exclusive right that is allegedly infringed. I also affirm that as the copyright owner or as agent authorized to act on behalf of the copyright owner, I have a good faith belief that use of the material in the manner complained of is not authorized by me, my agent, or the law."
5.The signature of the copyright owner or a person authorized to act on behalf of the copyright owner below the above statement.
You may give the above notice to AndreaFlorescu.com's IP agent to the following address:
By mail:
P.O. Box 539
Somonauk, IL 60552